More flag subscriptions are available!
Flags Over Waynesville is a patriotic subscription service performed by BSA Troop 51 and supported by the American Legion Post 615. With each subscription, on four different occasions we will place a flag in a pre-installed sleeve along the front of your yard. The four different occasions cover the six following patriotic days:
Memorial Day – originally known as Decoration Day, is a holiday to remember the military personnel who have died while serving in the United States armed forces
Flag Day – commemorates the adoption by the Second Continental Congress of the flag of the United States on June 14, 1777
Independence Day – commemorates the Second Continental Congress adoption of the United States Declaration of Independence on July 4, 1776
Labor Day – honors the works and contributions of laborers to the development and achievements of the United States
Patriot Day – commemorates the people killed in the September 11 attacks of the year 2001
Veteran's Day – originally known as Armistice Day, is a holiday to honor veterans of the United States armed forces and coincides with commemorations of the end of World War I.
By participating in Flags Over Waynesville, you will help instill values in the local community by supporting the growth of the Scouts in BSA Troop 51.
Upon subscribing, Troop 51 will place a plastic sleeve with a small metal stake in your yard and mark the curb/street with a BSA fleur de lis logo. The sleeve and stake will be installed such that no maintenance is required on your part and will not interfere with mowing.
The following are the dates flags will be posted for 2023:
Memorial Day, Flag Day and Independence Day: May 29th – July 8th
Labor Day and Patriot Day: September 4th – September 16th
Veteran's Day: November 6th – November 12th
The annual service fee of $35 covers installation of one flag for the year starting with the date of the receipt of your subscription. The service will begin on the first holiday after you sign up.
The total number of Flags Over Waynesville subscriptions may be limited and is only available in Waynesville, the Wayne Local School District, the Village of Corwin, and surrounding areas of Wayne Township. Please read the Terms and Conditions for additional details.
Installation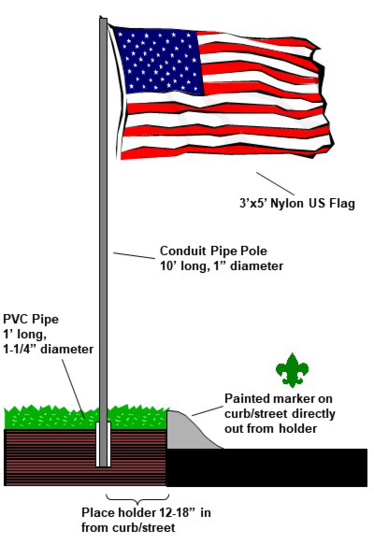 **It is your responsibility to ensure this is permitted in your neighborhood, i.e. Home Owner Association, and to identify any utility supply lines, sprinkler systems, or pet containment systems which must be avoided during installation.**
We will install a flagpole sleeve made from a one foot section of PVC pipe in your yard between 1 and 6 feet from the curb/street depending upon your location. This pipe will be installed low enough not to interfere with regular lawn mowing.
See the Terms and Conditions for additional information.